Tennis Court Cleaning in Essex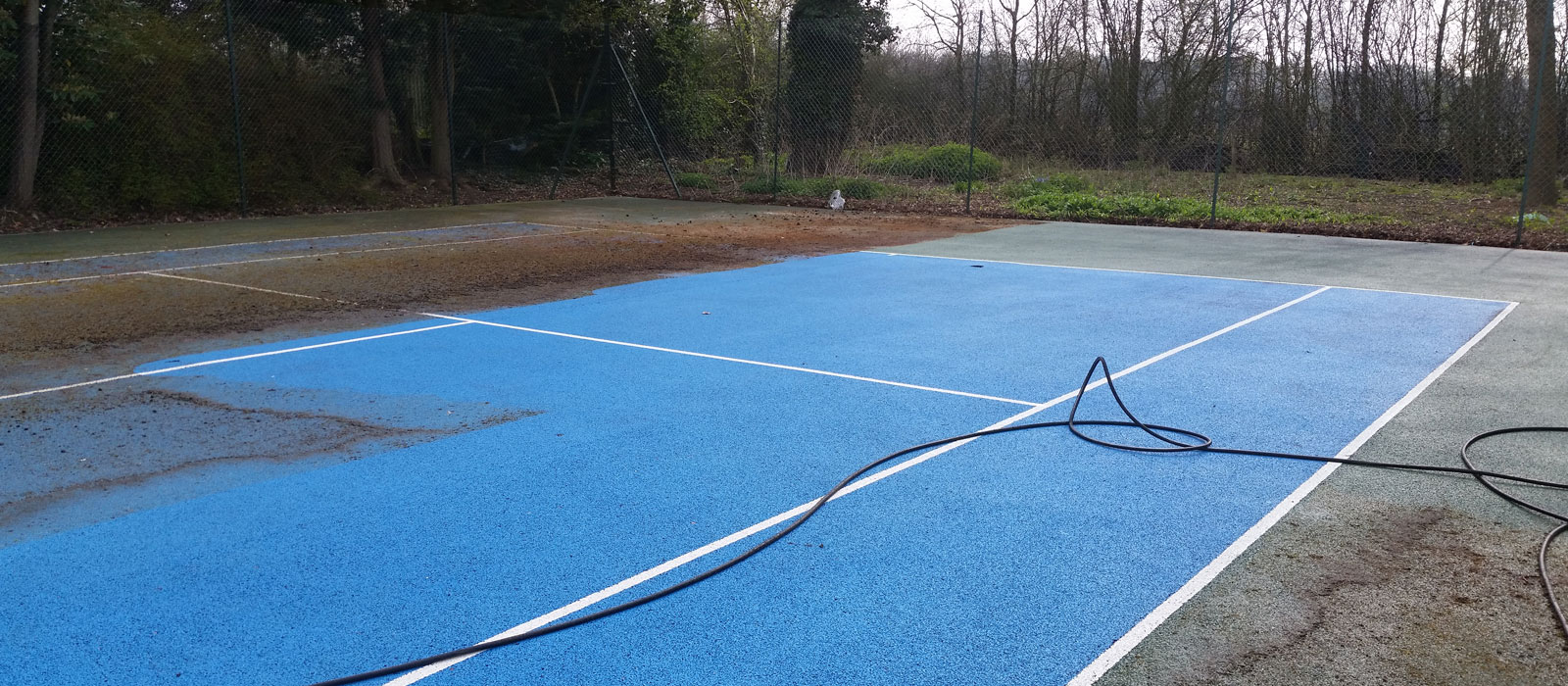 Tennis court cleaning & maintenance Essex
At HPS we strive to 'be the best' at what we do. This is why have invested, and continue to invest in the latest professional pressure washing and steam cleaning equipment on the market in order to leave every job looking its very best.
We pressure wash all types of hard surfaces including tennis courts. Whether it be a tennis court at a private residence, local tennis clubs or bigger institutions, we can clean them all. Even if the court has been left for many years to accumulate a carpet of moss, no problem.
We can remove all dirt and moss from the surface of your tennis court rejuvenating the look and feel under foot. By the time we finish the cleaning, your tennis court will look and feel like new again. The ball won't be slowed down or influenced by the moss under foot and your shoes will grip to the surface again. Plus of course it will visibly look a lot better.
As an additional service, we also provide optional ongoing care to keep your tennis courts looking better for longer. We usually come and spray an anti-fungal (moss) solution to the surface annually / bi-annually to help keep the moss away for that little bit longer. It won't keep it clean forever but it will help to keep it cleaner for longer.
All our equipment is petrol / diesel powered and so we never need access to electricity at all. We have arrangements with all local authority's and water boards and have permission to use stand pipes for accessing water from fire hydrants where necessary. In other words, we are completely self-contained. You, the client, don't even need to be present whilst the work takes place, unless you want to of course.
We realise that our commercial clients will have different requirements to those of our residential clients. We can be flexible and will try to work around your needs. We regularly work out of hours i.e evenings, nights and weekends if working throughout the daytime is not practical. Just tell us your requirements and we'll do our best to accommodate you. We can also provide risk assessments, method statements and DBS checks for those who require it.
We really will leave every job looking its very best! We have never had an un-impressed customer but don't just take our word for it. Please take the time to view some photos and videos of our previous work on our Facebook and Checkatrade pages.
We are fully trained and insured with both Public Liability and Employers liability cover up to the value of £10,000,000