Removing Black Spots from Patios
Removing Black Spots from Patios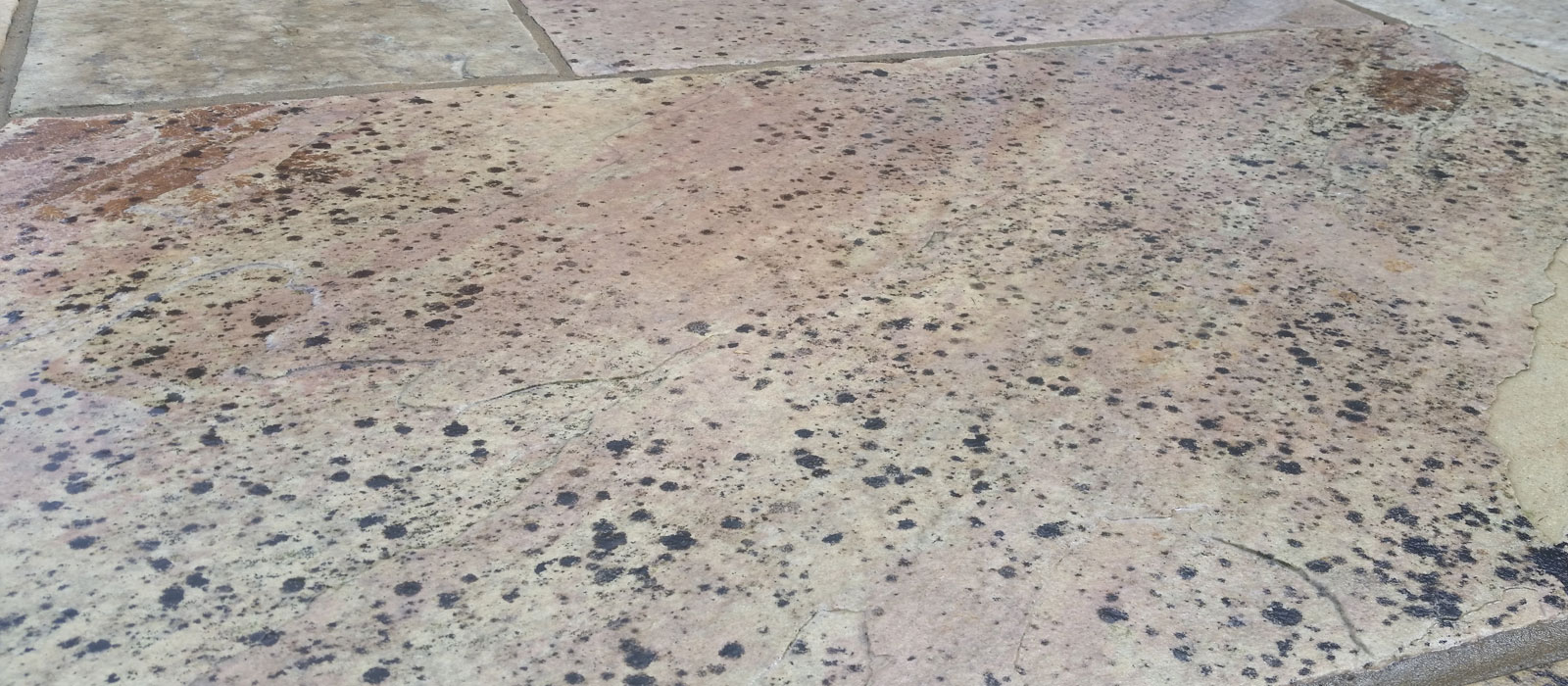 Removing Black Spots From Patios in Essex
At HPS we specialise in removing black spots from your patio. We were one of the first, if not THE first company locally to offer this service following years of research and trials. We are still one of only a handful of companies that even know how to do this and have many years experience in doing so.
These black spots are a certain form of algae that grow into your patio, as opposed to growing on top of it and so are notoriously difficult to remove. These black spots are a bit like moss in that, the more of them there are, the faster they grow and spread. Indian Sandstone in particular is extremely vulnerable to black spots due to it being so porous and needs regular treatment to help keep it looking it's best.
As you may well already know, simply using a jet wash on these spots won't do the trick. Even if you have an industrial strength machine like we do. In fact, turning the machine up to full power and blasting the spots at point blank range is the last thing you want to do as this can often damage the surface.
Types of Patio that black spots can be removed from are:
Indian Sandstone
Limestone
Yorkstone
Concrete Flagstone
To properly remove black spots from a patio requires both pressure washing and softwashing. Softwashing is a method of cleaning patios and stonework with chemicals and biocides at low pressure. These chemicals sink into the stone and kill the black spots at their roots without damaging the surface of the stone. They also clean off green marks, plant pot shadows and any other live growth spores, even the ones that can't be seen with the naked eye.
The results can be really quite spectacular. Even a 40+ year old patio can be cleaned up to look like new. This method of cleaning is also particularly effective at cleaning soft stone work, render and sometimes even roofs.
Once the work is complete we can apply sealants to the patio too if required. Sealants will enhance the look of the paving and waterproof the surface helping to fend off the black spots for a longer period of time. If sealing your patio is something you wish to consider then please call to discuss in more detail.
We really will leave every job looking its very best! We have never had an un-impressed customer but don't just take our word for it. Please take the time to view some photos and videos of our previous work on our Facebook and Checkatrade pages.
We are fully trained and insured with Public Liability cover up to the value of £10,000,000
We will always give you a quotation, not an estimate, so the job will cost what we say it will cost, no hidden charges or extras. If it takes longer to clean than we thought it would then that is our problem not yours. Remember, the quote is free and there is no obligation.